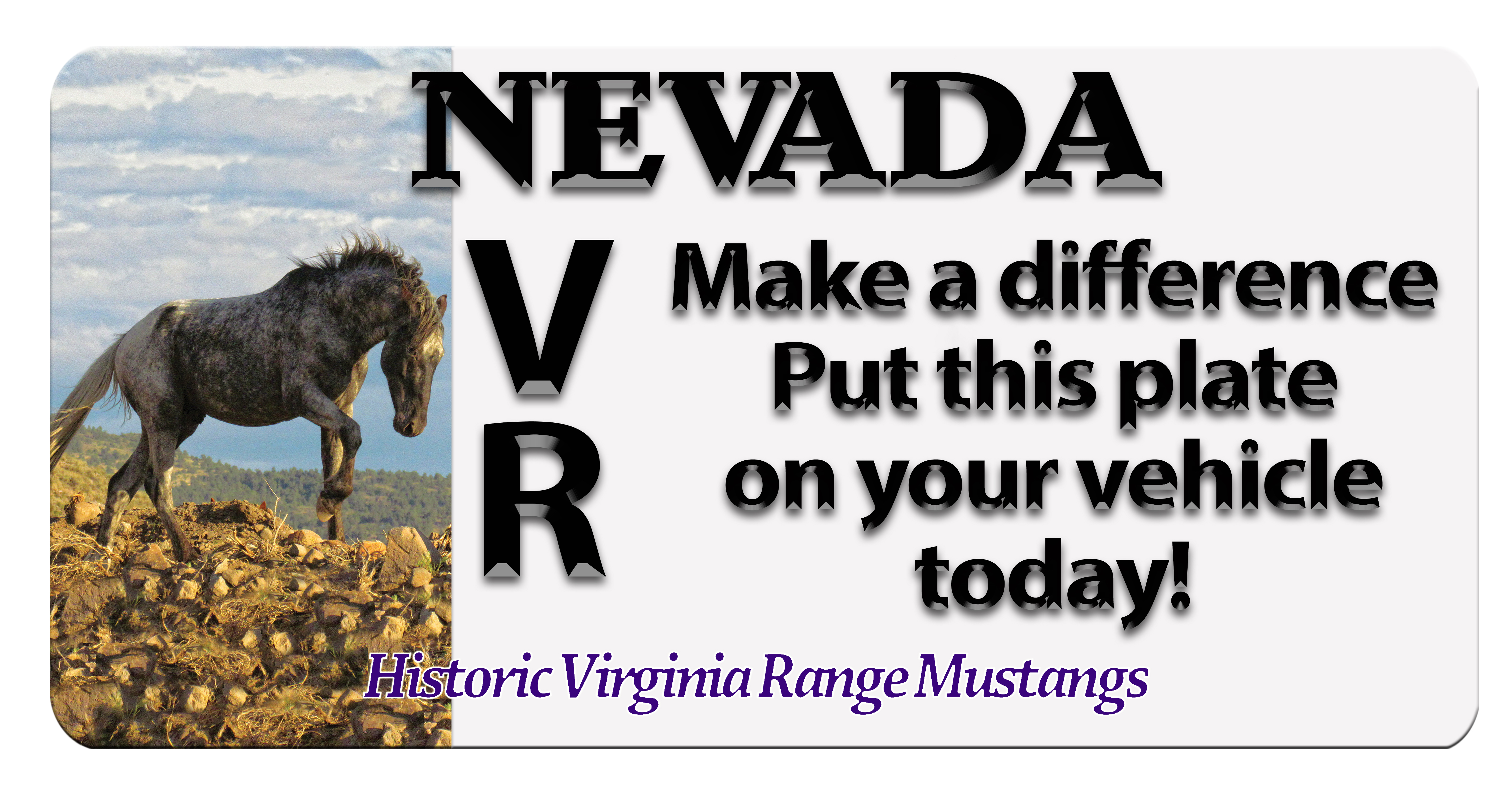 The Nevada Virginia Range Mustangs Special License Plate is now available through the Nevada Department of Motor Vehicles (DMV)!
We've been waiting patiently in line and that patience paid off! 
We need your help! First, get YOUR plates for your vehicles. Second, tell all your friends, family, acquaintances – anyone you meet!
Get a standard numbered plate or check the DMV site to see how you can get a personalized Virginia Range Mustangs Special License Plate today!
Read the FAQ's below to find out more about the plate, how it benefits the Virginia Range wild horses, and how you can get yours.
Frequently Asked Questions (FAQs)
How can I get one?
Please click HERE to visit the DMV site page for special plates! They are in alphabetical order, so you'll find Virginia Range Mustangs is at the bottom of the list – scroll down when you get there!
Is this a real Virginia Range wild horse?
Yes! This stunning, award-winning photo was taken by HVWHPF Board member Ellen Holcomb. The horse pictured is a Virginia Range stallion named Ghost.
Where is the Virginia Range?
The Virginia Range is close to 400,000 acres and is located east of Reno, north of Carson City, west of Fallon, north of Stagecoach, and south of Fernley. It crosses Lyon, Storey and Washoe counties and is bordered on all sides by Interstate 80, Highway 95A, Highway 50, Interstate 580 and (old) Highway 395.
How much do the plates cost?
The initial fee to obtain the plate is $62. Thereafter the annual fee is $30. These prices are in addition to your usual annual registration renewal fee.
When you obtain new plates the DMV also charges a Plate Cost Recovery Fee of $3.50 per plate, a Prison Industry fee of 50 cents per plate and a Technology Fee of $1 in addition to any registration fees due.
(*Personalized plates carry additional fees – download the application from the DMV site.)
Do I have to wait for my curent plates to expire to get them?
No! If your vehicle is currently registered in Nevada, bring the old plates to a DMV Full Service Office or County Assessor which offers vehicle registration services. If you wish to keep the old plates, you must bring the rear plate and surrender the decal in person.
If you choose to keep the same expiration date, thet will issue your new plates with a new registration slip and decal. No emission inspection or registration renewal is required. A $6 substitute plate fee will apply in addition to the specialty plate fees.
You do have the option of renewing your vehicle registration for a full year if you'd rather do that. You will need to complete an emission inspection if required and if the last test was completed more than 90 days ago. Your expiration date will change if the current expiration date is more than 35 days away. Credit will be given for the unused portion of your current Nevada registration.
How much does the organization receive when I buy the plates?
Our organization receives $25 when someone initially buys the plates, and $20 each year you maintain the plates when the registration is renewed.
Where does the money go that the organization receives from the plates?
The proceeds received from the plates directly benefit the Virginia Range wild horses in a variety of ways including fencing, fertility control, hay for the rescued horses and diversionary feed for the wild ones (when needed and approved), rangeland rehabilitation, orphan foal rescue, public education campaign, rescued horse training program, etc. You can see the initial proposed budget by clicking the Initial Proposed Button on this page. The budget will be reviewed and adjusted annually to meet prioritized needs which will be determined by committee.
It's an amazing photo, will there be other products featuring this plate image?
Yes! We will have a selection of items to purchase featuring the plate image, with all sales benefiting the horses. As soon as they are ready, we will provide links and purchase information.
How can I see how the organization is spending the money raised?
One of our big goals is to be as transparent as possible. We want you to feel good about having the plates on your vehicles so we think you should know how the money raised from the sale of the plates is spent.
You can click in the right hand column to see the original application for the plate and the initial proposed budget. The budget will be updated by committee annually.
In addition you can come back to this page for updates and photos of projects funded or follow us on Facebook at Virginia Range Mustangs Special Plate (or @VRMustangsPlate).
Visit the DMV Special Plate Site
License Plate Approved Application
SUMMARY OF BUDGET VS ACTUAL SALES 2019-2020
HISTORIC VIRGINIA RANGE MUSTANGS LICENSE PLATE FUNDS
As a Second Tier special license plate, the government mandated minimum number of "Historic Virginia Range Mustangs" license plates required before December 31, 2020 is at least 3,000 active license plates in the public venue.  The goal of Hidden Valley Wild Horse Protection Fund is to achieve and maintain at least 5,000+ active license plates in the public venue.
Our "projected" active license plate numbers were based on an assumption of sales over the 2 year period 2019-2020, as designated by the Nevada Department of Motor Vehicles.  "Actual" numbers remain estimates based on funds received.  True numbers will be determined when the Nevada DMV performs an audit of actual license plates purchased by the public, which is normally performed in the month of September.
As noted in the figures, our fixed costs (feed for our 145 rescued horses) maintain the largest portion of the projected budget and actual funds spent.  With 145 rescued wild horses in our care, our rescue program remains the most critically important aspect of the work we currently do – live animals need to be fed and cared for.  All our rescued horses will soon be moving to their new home at 'The Haven – a wild horse sanctuary', located on the north side of Sparks, Nevada.  There, some horses will receive training and find new adoptive homes; others will find good homes with other rescue organizations, and still others will remain with us to live out their lives in peace and safety.  Regardless of the outcome, our long-term goal is to reduce our fixed costs (feed and care) by reducing the number of horses in our care.
Our major challenge appears to be reaching the public to raise awareness about the availability of our new license plate.  As reflected in our projected numbers, the more the public embraces this license plate, the more projects we can fund to benefit the wild horses on the range.  We feel once the public is aware of the license plate, they will be excited to be supportive as a participant in funding projects that benefit our wild horses. 
We hope you will help us reach our goal of having 5,000+ license plates in the public venue!  Time is of the essence however as we near the end of 2020.  Getting a license plate is easy and makes sense.  Your participation in this program means a simple $20 annual donation to help fund programs benefiting our wild horses.  The "Historic Virginia Range Mustangs" license plates are available at full service Nevada DMV offices.  You can swap out your existing plate for one of these beautiful plates at any time, or whenever you renew your annual registration.  You can also order a personalized plate online at https://dmvapp.nv.gov/dmv/vr/plateav/plateav_input.aspx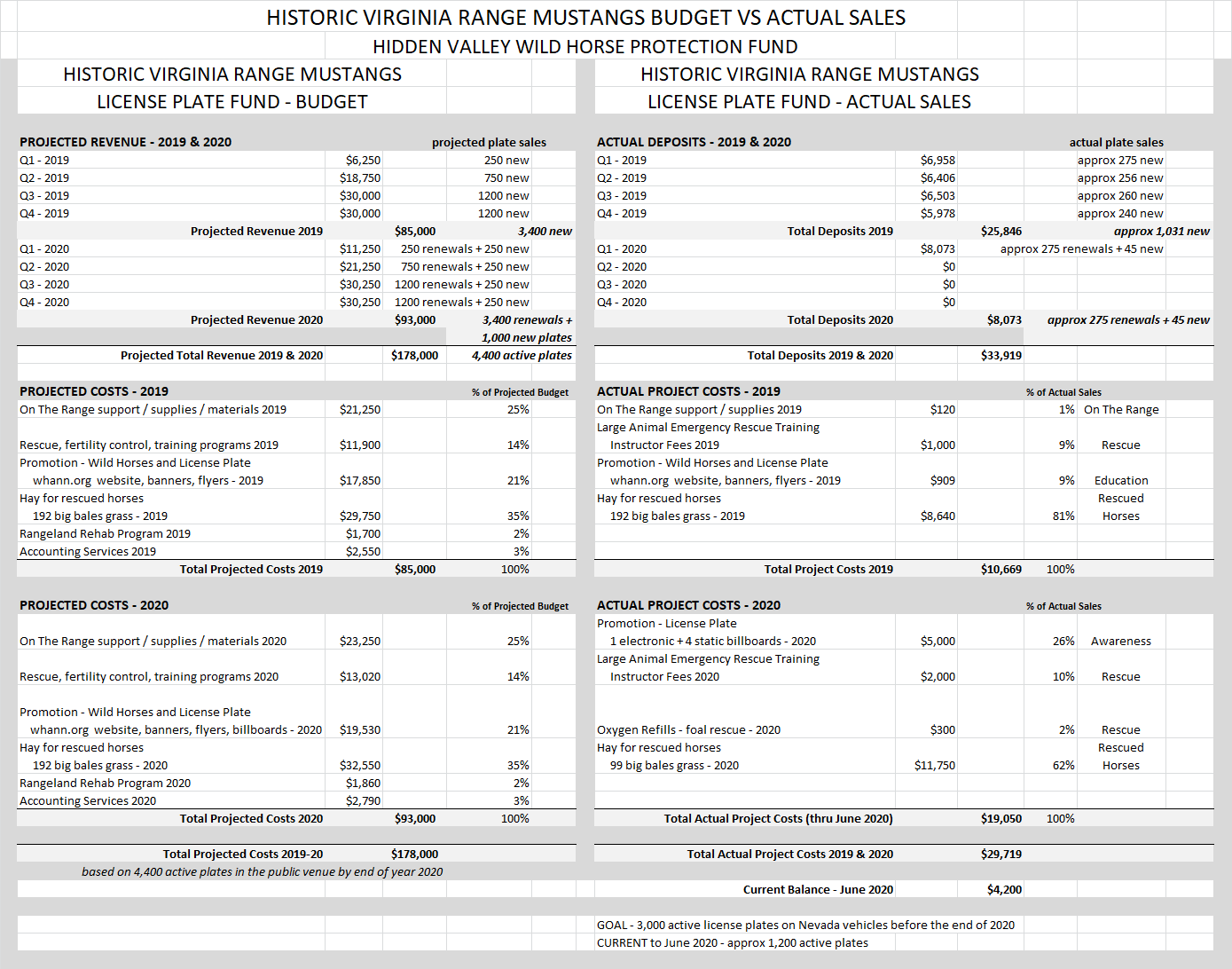 Total Page Visits: 5655 - Today Page Visits: 1