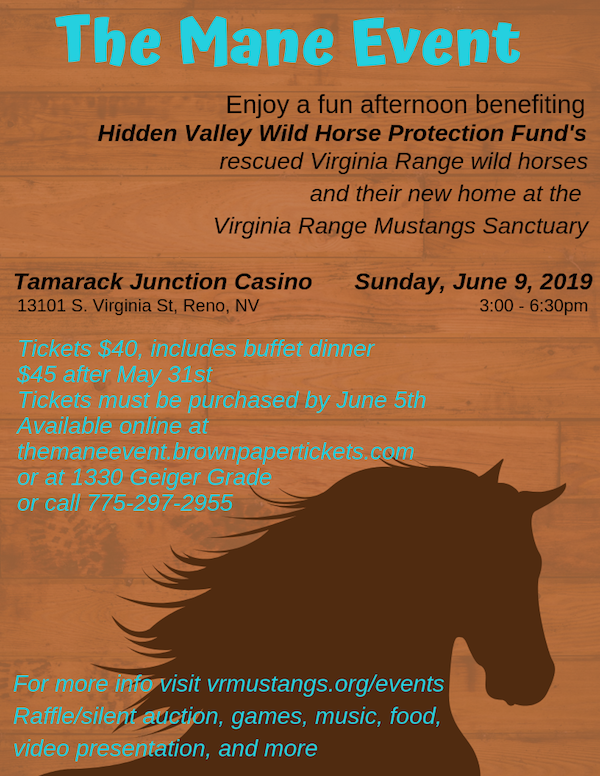 Proceeds from this year's event will go directly to finishing fencing of phase one of the sanctuary including the hay storage area and to the water system (trenching, pipes, non-freezing waterers and second water storage tank). Anything raised above the cost of these projects will go to the trailering costs to move the horses to the new sanctuary.
Join us for a fun afternoon benefitting Hidden Valley Wild Horse Protection Fund's rescued wild horses and their new home at the Virginia Range Mustangs Sanctuary. 
TJ's Patio & Banquet Room
Tamarack Junction Casino
13101 S. Virginia St
Reno, NV 89511
Sunday, June 9, 2019
3:00 – 6:30pm
Ticket price is $40 per person when purchased by May 31, 2019.
Ticket price is $45 when purchased June 1-5, 2019.
All tickets must be purchased by June 5th.
Limited tickets available, get yours early!
Tickets include buffet dinner (yummy menu!). No-host bar available.
We'll have a video presentation, music, games, raffle/silent auction, delicious dinner, and more!
To purchase tickets online, go to themaneevent.brownpapertickets.com
Or mail checks to:
HVWHPF
PO Box 20052
Reno, NV 895515-0052
Please include attendee's name(s) for will call pick up
Or purchase in person from:
Foothill Feed & Mercantile
1330 Geiger Grade Rd
Reno, NV 89521
TICKETS ARE PRE-SALE ONLY AND MUST BE PURCHASED
BY JUNE 5TH.
Thank you to all the donors that make this event possible! We are grateful for each and every donation.
Peppermill Reno
Great Full Gardens
Reno Aces
Reno 1868 FC
In-N-Out Burgers
Pianissimo Coffe and More
Moe Z Art
Dawn Duncan
NW NV Mobile Chiropractic – Lori Ugolik, DC
Luanne Beck
Ellen Holcomb
Margie Rick
Barbara Latam
Eldorado Resort and the Carano Family
Cathy Medina
Aunt Emma's Place/Joycelyn King
Angela Watson Pfaff of Underground Chic
more coming soon!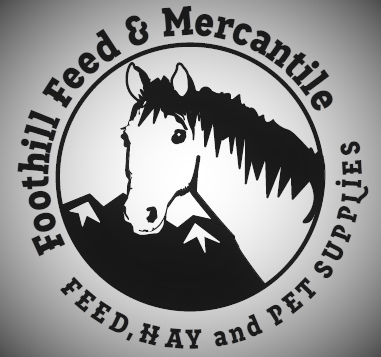 Event Sponsors
A huge thank you goes out to the companies and individuals that sponsor our event, allowing more of the proceeds to go directly to benefit the horses!
Interested in being a sponsor?
Your logo will be featured here on the website, our Facebook page, and at the event. Sponsorships can be completed by check or online at themaneevent.brownpapertickest.com
Basic sponsorship levels include:
$50, $100, $250, $500
Advanced sponsorship levels include event tickets:
$1000 (4 tickets)
$1500 (6 tickets)
$2000 (8 tickets)
$2500 (10 tickets)
Sundance Digital Studios
Ellen Holcomb